5 Habits That Will Make You A Better Guitarist
 by Rhiannon Rosas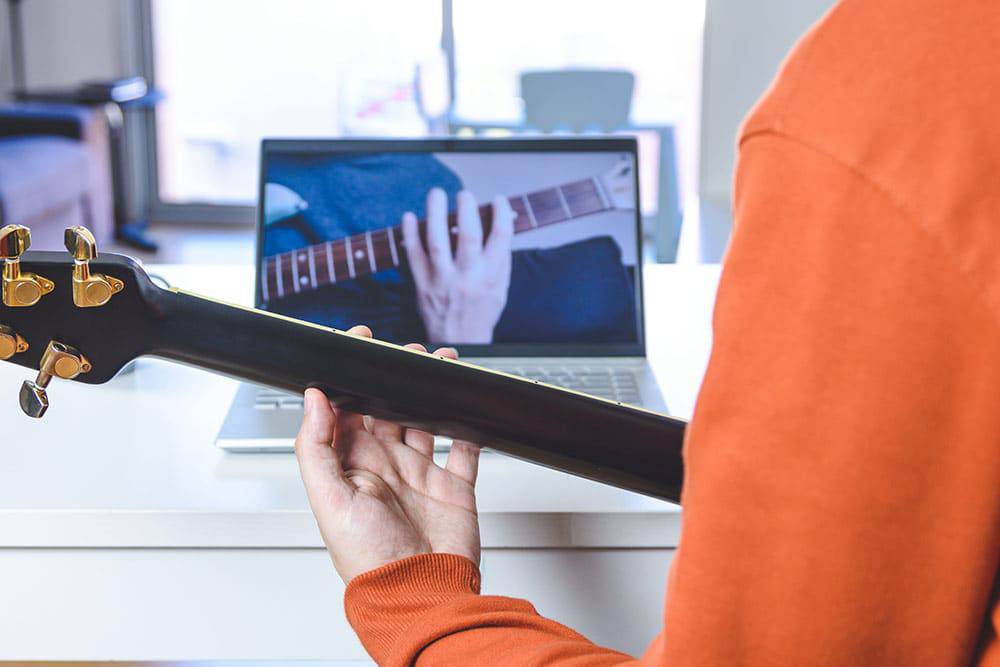 We have all heard throughout the years that practice makes perfect, but it's really much more than that. There is more than just practice that will make you a better cook or a better guitar player. 
Whether you are a beginner just learning to play the guitar, or a little more advanced, we could all learn a thing or two at perfecting our skills. Let's discuss some habits you can take up to make you a better guitarist and musician. 
 1. Always Be Learning
A good student is always learning something new, no matter what expertise they are trying to perfect. When it comes to being a musician and playing guitar, we should always be learning new skills. 
When you continue to learn something new every day it helps to improve your playing, your musicianship and your musical discipline. As you go through your daily practicing, try to include something new. Whether that be learning a new riff, a new chord, or a new song, set a goal for yourself to learn something new every day and see how much it helps you to grow as a guitarist. 
 2. Practice Daily
As mentioned earlier, you should be practicing daily. Short, consistent sessions of daily practice for 10 to 30 minutes a day is much better than 2 hours of practice every once in a while. When you practice daily you have a better chance of improving your skills quickly and understanding your instrument and your body. 
Your practice should consist of warming up, followed by some exercises, and then focusing on your goals. Some goals you might set for yourself could be:
Learn a new chord

Practice the melody of one of your favorite songs

Practice a difficult section of a song 
You can also work with a music instructor to help you set up a schedule and routine for your daily practice.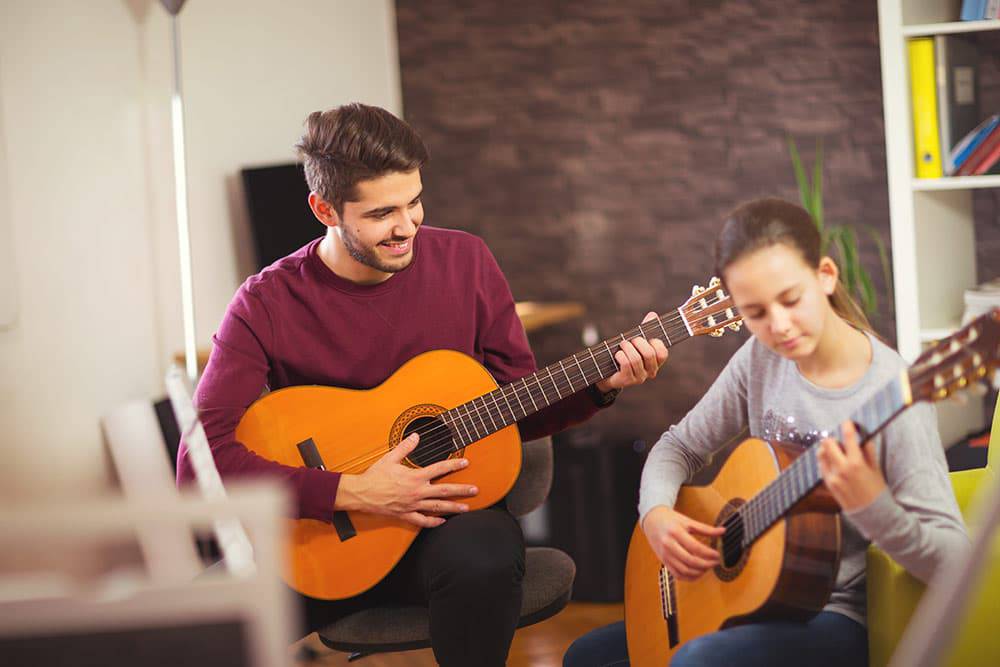 3. Take Lessons
When it comes to perfecting your guitar skills, there's nothing better than taking lessons. When you enroll in guitar lessons, your music instructor will help to pinpoint your exact areas of strengths and weaknesses and help you improve upon those areas. 
At Music House, we offer a variety of lessons, including guitar lessons, and have many different ways for you to learn. With the coronavirus still around, we have adapted our lessons to include socially distant learning capabilities. Our guitar lessons include:
In-person guitar lessons

Private guitar lessons
Whether you are a beginner, at the intermediate level or advanced, we have guitar lessons fit for everyone. 
 4. Play With Other Musicians
Another large part of perfecting your guitar lessons is to learn to play with others. Unless you plan to be a solo act your entire life, learning to play with others is key. Plus, you can learn a lot from playing with other people. 
When you play with others in a group you can learn new skills and help each other out with learning certain sections of music that you might have found difficult to play. Plus, when you have a jam session with other musicians you can riff off of each other and just have fun. 
If you are unable to meet with other musicians in a safe space due to Covid, there are tons of alternatives you can turn to to get the same experience. You can find virtual backing tracks, apps on your phone or online, and even videos. 
You could also try playing along to your favorite song. You can make a goal to play along with the song and fit in seamlessly and then once you have perfected that skill, work on your improvisation skills and test out a guitar solo or riff in a particular section. 
There are tons of ways to play off others, and they will greatly benefit you as you work on your guitar skills. 
 5. Record Yourself and Track Your Progress
A great way to help you to really listen to yourself play is to record yourself. This way you can really listen and hear where the areas are that you might need to work on more. There are many different ways that you can record yourself playing whether you just want to listen and record on your phone or find a software online, or if you want to video record yourself so that you can see how you sit or stand and hold your guitar. 
Another great benefit of recording yourself is that you can layer multiple pieces together and learn how to compose music. You can record yourself playing the rhythm of a song and then record yourself playing complimentary parts as well, this will help you to learn about composition and production. While it helps you to listen to yourself while you play, it also teaches you a valuable skill that could lead to new adventures like songwriting. 
Along with recording yourself to listen for your strengths and weaknesses, you should also keep a daily log that you write in each day after your practice sessions. This way, you can track your progress and see how far you have come. Something you can try when starting out your log is to note areas that you did well in and areas you could improve on. Then, when you come to practice the next day you can see what went well that you could try to repeat, and with the areas that need improvement, you know to work on them a little harder. Keeping a log is not only great for daily practicing but also to look back on to see how far you have come in your musical journey. 
Conclusion
No matter what new skill you are learning, or what instrument you play, keeping these five habits in mind will help you to become a better musician. All musicians, piano players and drummers included, should always be practicing daily and continuing to learn new skills. These habits are what set great musicians apart from the rest.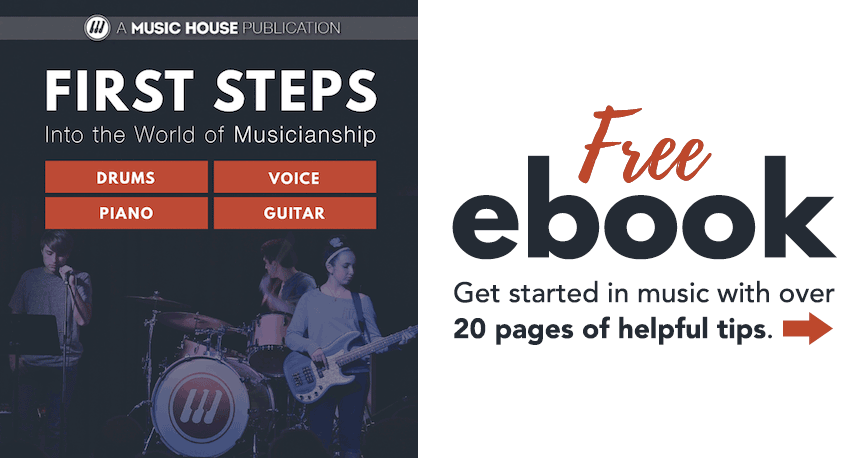 ---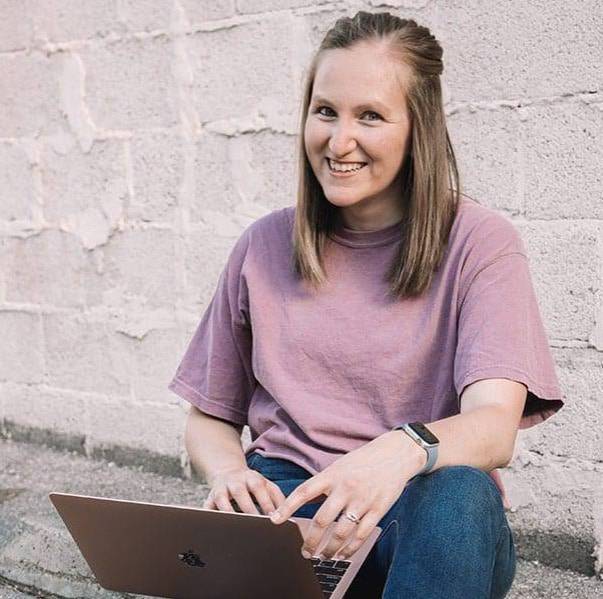 Hello World