Prairie Village

Music Lessons & Classes
Ready to Chat?

 




Fill out the form and we'll be in touch shortly 
Locally owned and over 800 students strong, Music House brings its popular music education programs to Prairie Village. It's our third location, right next door to Hy-Vee, and it offers high-quality, state-of-the-art music facilities—just like the ones at our other 2 locations. Our programs span from early childhood music to adult learning. Come join our community!
Music House connects you with music that you love. Whether you're an absolute beginner or have been playing for years, you'll find a home at Music House's Prairie Village location. Families like yours will have the opportunity to step into a world of performances, group music classes, rock bands & ensembles, and a diverse catalog of free weekend music class. Reserve your spot today!
Find The Prairie Village Location
WHY MUSIC HOUSE
Music House is a community that offers more than the traditional, isolated approach to teaching music. Students play together, perform on stage, and become part of something bigger than themselves.
OUR MUSIC LESSONS, CLASSES, & BANDS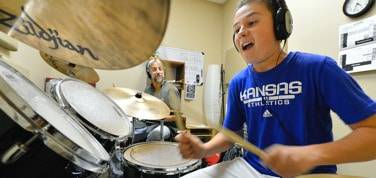 Music House private music lessons serve a larger purpose: to prepare you for "real-world" musical situations.
---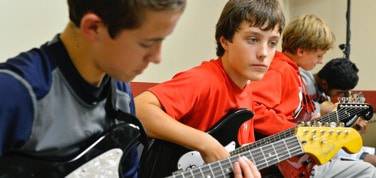 Listening, responding, and observing are key aspects of music. Music House group guitar, voice & piano classes lay the foundations of musicianship.
---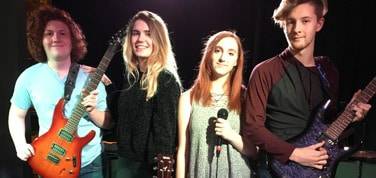 Play in a real band at Music House. Get coached weekly by our expert instructors and regularly perform in our auditorium.
---
THE MUSIC HOUSE METHOD

We teach our students to be musicians, not just pianists, singers, drummers or guitarists. Within our community, they learn to listen and react to rhythm, melody, and harmony.

Within our classes, students discover their musicality. By connecting to a musical community, they begin to see what makes them unique musicians. Soon, creative identities emerge.

At Music House students feel connected to what is current and relevant. They master a rich and varied repertoire rooted in popular music.

Music House establishes lifelong musical engagement by teaching students how to learn — and how to articulate that learning process.
PEOPLE ARE TALKING ABOUT US