How to Have Successful Online Music Lessons
 by Rhiannon Rosas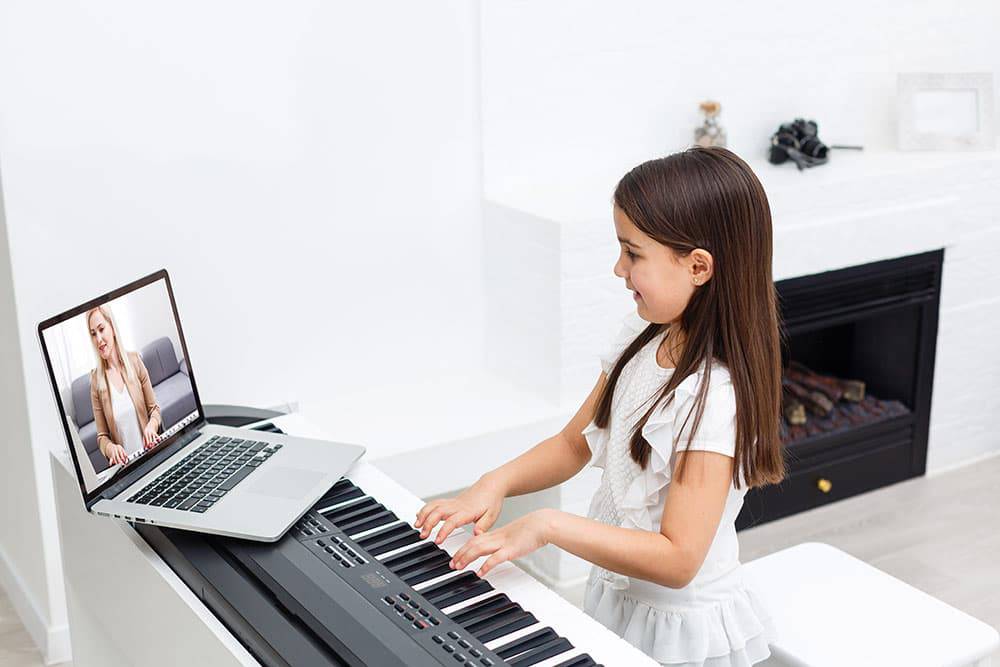 When it comes to music lessons there is now more than one way to learn. With the pandemic still looming, music lessons are no longer just in person, they are also online! This opens up the doors to students who may have never thought about taking music lessons because they were unable to make it to classes or were too shy to take in-person classes. 
Music House School offers online music lessons for a variety of instruments including guitar lessons, drum lessons, piano lessons, and even voice lessons, all online! 
So how can you make the most of your online music lessons? Here are a few helpful tips to get you started or help you to improve your current learning process. 
Create a Designated Lesson Space
When it's time to practice and take your online music lessons, it's best to have a designated space that is quiet and leaves little room for distractions. Find a room in your house where you can access your music lessons without any interruptions from other family members or noises. 
Elevate your space even more and decorate it to create a fun and inviting space. Add touches of music art and creativity to help keep you inspired every day. Some things you could include in your space would be:
Music posters of famous musicians who inspire you
Inspirational quotes from musicians and educators
A music chart for the particular instrument you play
Fun decorations made from music instruments like a vinyl record bowl or snare drum clock
If you like to sit to play your instrument, get a nice chair that will help you to sit up straight and is comfortable
There are tons of ways that you can decorate your space to make it creative and a space that you want to learn and practice in.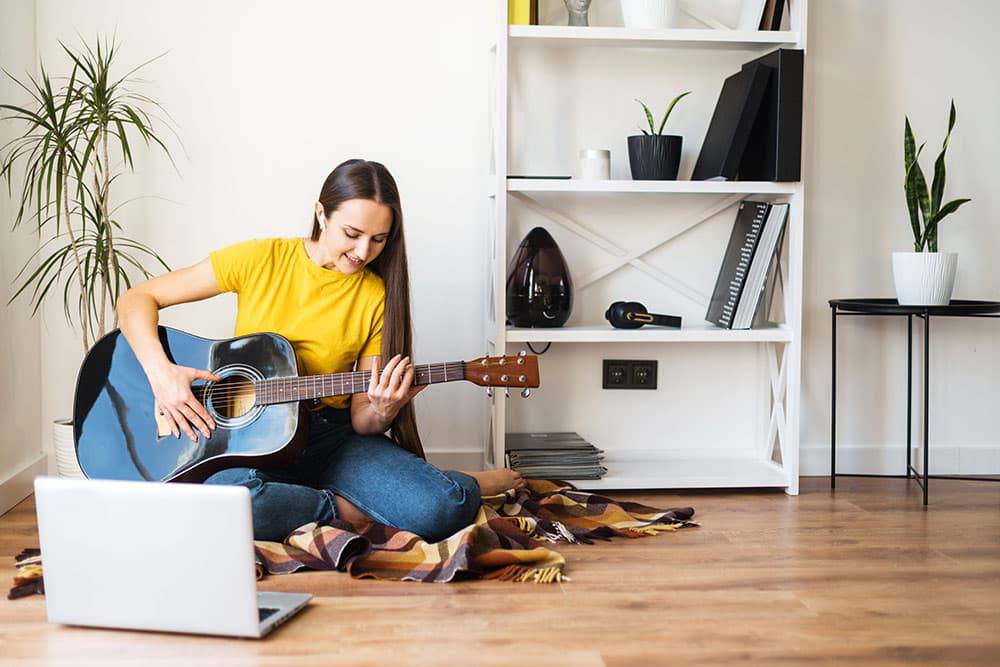 Use the Right Device
The most important thing that you will need in your music lesson space is the screen you will use for taking your online music lessons. It is best to have a large screen like a laptop, tablet, or even desktop computer to clearly see everything your music instructor is showing you. If they need to show you a particular note or way of holding your instrument, you want to make sure that you can clearly see them. 
If you do have a laptop or desktop computer but still want a larger screen, use an HDMI cord to connect your computer to a TV screen for larger viewing. This way it's less strain on you and you can very visibly see what your instructor is showing you. 
Another important element to consider when developing your space and setting up your computer is your internet connection. You need a clear internet connection so that you can communicate with your instructor without any laggy interference from a bad internet connection. Try to be close to your WiFi router and use a LAN line if possible to have the strongest internet connection. 
Practice, Practice, Practice
Learning an instrument and taking online music lessons is a breeze, but it's what you put into the class that can really make a difference. It's all about your mindset and practice. If you don't put forth the effort to practice outside of your music lessons, you will only go so far. But if you take the time to practice outside of class and set clear goals for yourself, you can achieve great things!
Create a schedule and make a plan for when to practice throughout the week. Try to practice every day if you can, or at least three times a week. Set out clear goals that you can achieve and work towards them. Maybe you want to perfect a section of music that is difficult for you, break it up into smaller pieces to practice throughout the week. Each time you practice it make sure you record yourself so that you can listen back to see where you need to improve. Keep practicing and before you know it, you can put all of the pieces together and master the section that was once difficult for you with ease. 
Have a Performance
Celebrate your achievements and put on a show for your family and friends. While we may be social distancing, there are still ways that you can put on a show for everyone you know. 
Have a small performance at home for the family you live with, make it fun by creating a stage and dressing up for the occasion. 
Send out letters with tickets to family and friends with a link to a Facebook Event and have a virtual show. Make it fun and invite all of your friends and family members you may not get to see often. 
Record videos and make a plan to post once a week or twice a month. This way you have a goal to work towards and are always practicing and perfecting your skills. 
Stay Connected with Your Instructor
One of the best parts about taking online music lessons is the extra ways that you can engage with your instructor and others in your class. At Music House, our students can stay connected with their instructors all of the time. Our online system has an instant messaging feature which messages your instructor for quick responses. So if you ever have a question, your instructor is not far away. 
We also have community forums where everyone can communicate and share their work. Whether you want to get music suggestions, share videos of you performing, or ask questions to other students and your instructors, the online community forums are a great place to connect. 
Conclusion
Online music lessons boil down to what you put into them. The right mindset and setting clear goals can really improve your work. Having a designated lesson and practice space that is all your own is also a great way to get started. 
Make the most out of your music lessons with these great tips and connect with your community and instructors online at Music House!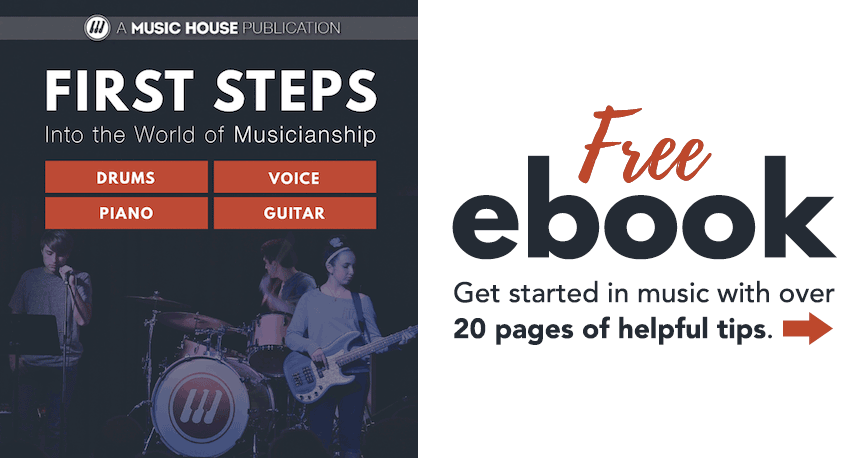 ---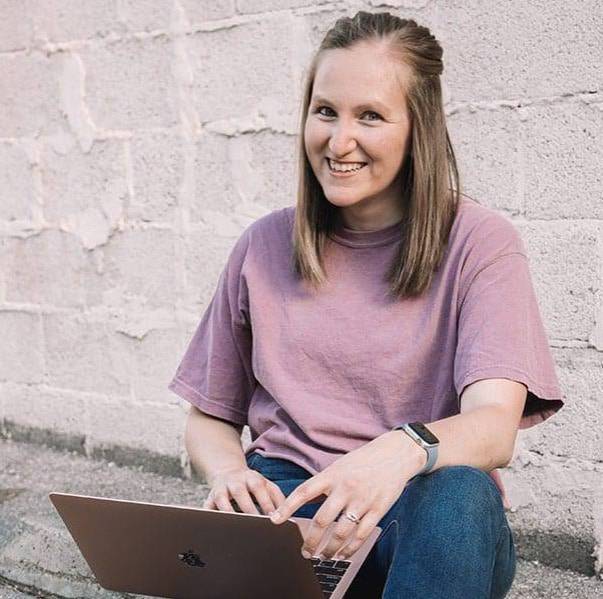 Hello World