This Student Rock Band Focuses on Teamwork
 by Aaron Sizemore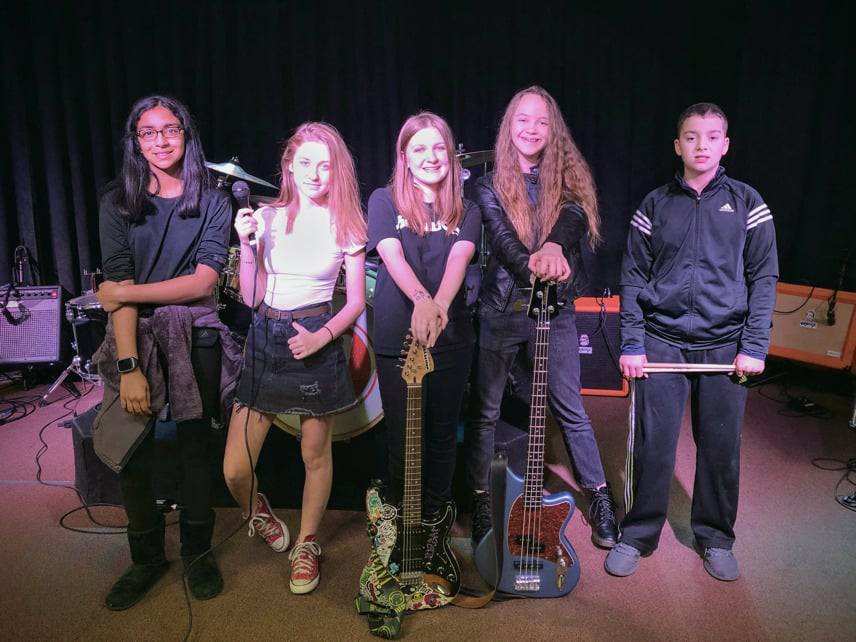 When we humans get together cooperatively, amazing things can happen. The members of the Music House student rock band, Double Negative, know this. In fact, they cite teamwork as their most valuable asset. That's where collaboration and compromise (sometimes even a little arguing) happens. But most importantly, when individuals work as a team, they learn to be part of something much bigger than themselves — something beyond anything they may have previously thought possible. Here's what the members of Double Negative have to say about their collaborative band.
---
What has working with a real band taught you that goes beyond what is taught in private music lessons?
Chase Wilksinson: Teamwork is a the most valuable asset.
Jack Horst: It helps us learn the songs better because we're actually playing with other instruments.
Who are your biggest influences?
Chase: Michael Jackson.
Meg Qualls: The Greeting Committee. (editor's note: The Greeting Committee band members are all former Music House students.
Mary Burgett: Panic! At the Disco.
David Gordillo-Palacios: Metallica.
Andrew Ingram: Decpecito.
Donovan Lynch: 21 Pilots.
What do you think is the difference between a good band and a great one?
Meg Qualls: The ability to play well together.
What do you guys do that's special—that set's you apart from all the other Music House bands?
Meg & Mary: We look at memes together during breaks.
David: I play guitar... very well.
How would you describe the Double Negative sound?
David: Ridiculously noisy.
Jack: Different from all the other Music House bands.
Chase: We're fun.
Anything else you'd like to add?
Chase: We argue sometimes.
Meg: Yes, but I think that's fine. Mostly, we have a lot of fun.
---
Want to learn more about Music House lessons, classes, and bands? Just click the button below.
---

Co-founder & Executive Director at Music House