Control Alternative Delete: Diverse Tastes and... Puppies
 by Aaron Sizemore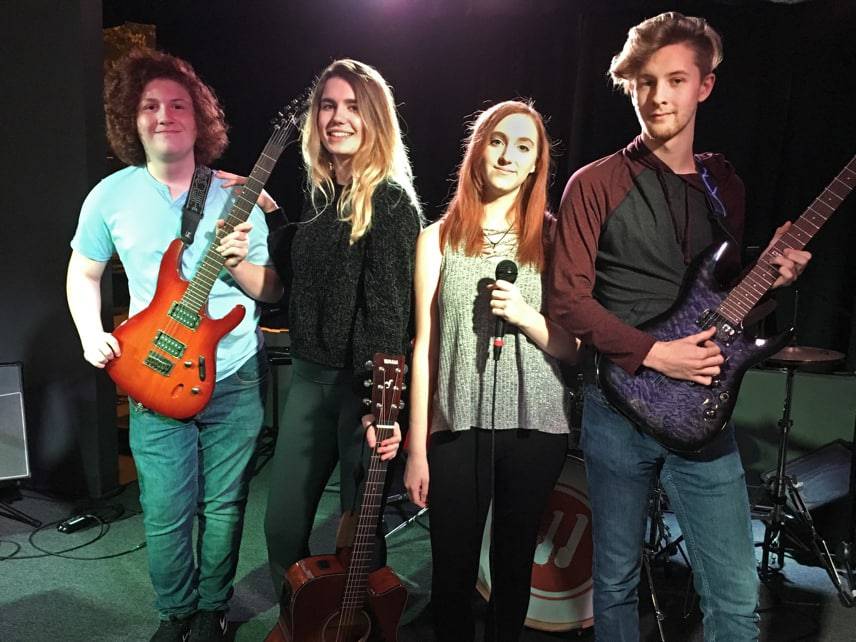 As the big Music House Fall Carnival approaches. We'll be featuring each of the bands competing in the Battle of the Bands. Presenting, Control Alternative Delete...
---
I think we might be able to guess this one, but how'd you come up with your band name?
Emma: I was looking at my computer and trying to figure out what ALT stood for and it made me think of alternative.
Who are your biggest influences?
Lauren: I like a ton of music including 80s, Broadway, piano music, and alternative rock, basically everything. I really like Brandon Urie because he has an incredible range and great tone.
Dalton: Eddie Van Halen, Def Leppard, Jimmy Page, and Phil Collins.
Emma: Arctic Monkeys, Cage the Elephant, Childish Gambino.
Nathan: I appreciate the sound of silence.
How would you describe your band's style?
Lauren: At the beginning, it was pretty mellow, but now it's all over the place.
Nathan: We play songs other bands don't, we like to make our sets diverse.
What has working with a real band taught you?
Emma: I've become more open.
Dalton: I've learned to play harmonic guitar solos.
Do you guys write your own music? If yes, do you prefer writing your own stuff or covering others?
Dalton: I like both. Original stuff helps you progress more than covers, but covers help set a base for what you can do.
Lauren: We've written two original songs. I like singing my own thing because I can make it what I want, but currently, I like interpreting other people's songs better.
What do you think the difference is between a good band and a great one?
Nathan: Originality.
Lauren: Stage presence.
You guys are performing at the upcoming Music House Fall Carnival on Oct. 29. You stand to win recording time and a performance slot at an upcoming music festival. What excites you most about that show?
Dalton: The idea of seeing how our band compares with all the others.
What's going to set you apart from all the other bands competing on the 29th?
Nathan: We hang out together a lot and I think that translates into our performances.
Anything more you'd like to add?
Lauren: Hmm... How about this? I really like puppies.
---
Be sure to join us at this year's Music House Fall Carnival to hear this band and seven others serve up their best. It's going to be a big party featuring lots of amazing people!
Want to learn more about the upcoming Fall Carnival? Click here.
---

Co-founder & Executive Director at Music House