The Wicks: Grooving All Over the Place
 by Aaron Sizemore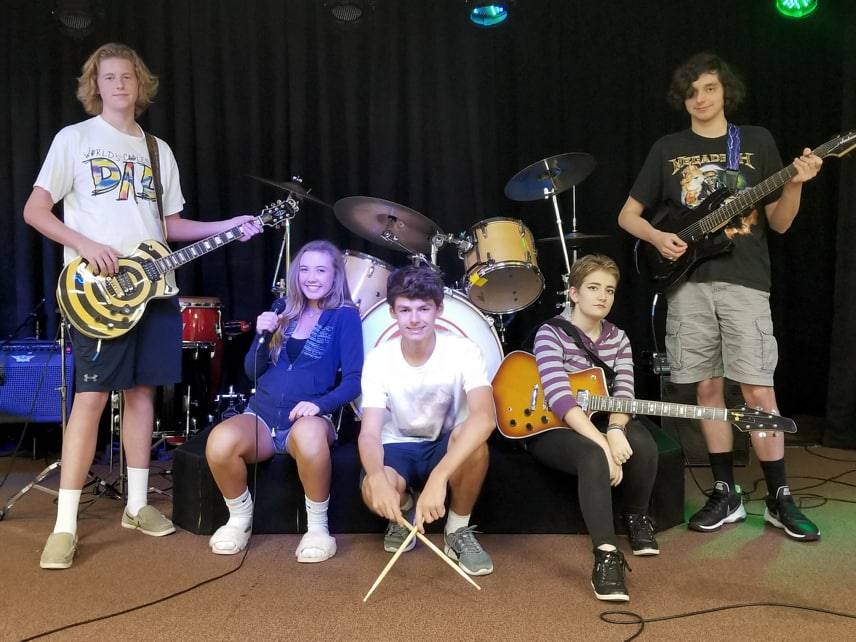 As the big Music House Fall Carnival approaches. We'll be featuring each of the bands competing in the Battle of the Bands. Presenting, The Wicks...
---
Why do you call yourselves the "The Wicks"?
Audrey: The TV was on, there was a commercial for Wix.com. Henry said we should be called the Wicks, just spelled differently.
Who are your biggest influences?
Kaitlyn: My brother.
Ethan: John Petrucci and Rob Halford.
Killian: John Bonham and Slash.
How would you describe The Wicks' style?
Audrey: We're all over the place.
What has working with a real band taught you?
Killian: How to groove.
Kaitlyn: It has improved our stage presence.
Do you guys write your own music? If yes, do you prefer writing your own stuff or covering others?
Killian: Covering other people's music because it teaches you new techniques.
Audrey: I like doing my own thing more than other people's work, it's more personal.
Kaitlyn: I like doing covers better, it's more fun.
What do you think the difference is between a good band and a great one?
Audrey: Hours of practice.
Kaitlyn: Being able to communicate non-verbally on stage.
You guys are performing at the upcoming Music House Fall Carnival on Oct. 29. You stand to win recording time and a performance slot at an upcoming music festival. What excites you most about that show?
Kaitlyn: We get the opportunity to try to beat the Mastery bands!
Audrey: If we win, we get to record our original music.
What's going to set you apart from all the other bands competing on the 29th?
Killian: We bring talent to the table, and we play well together.
Anything more you'd like to add?
Audrey: I promise we're cool.
Sean: We're awesome and everyone should vote for us on October 29th!
---
Be sure to join us at this year's Music House Fall Carnival to hear this band and seven others serve up their best. It's going to be a big party featuring lots of amazing people!
Want to learn more about the upcoming Fall Carnival? Click here.
---

Co-founder & Executive Director at Music House