The Amazing "Study Session" - A Band That's Done Its Homework
 by Aaron Sizemore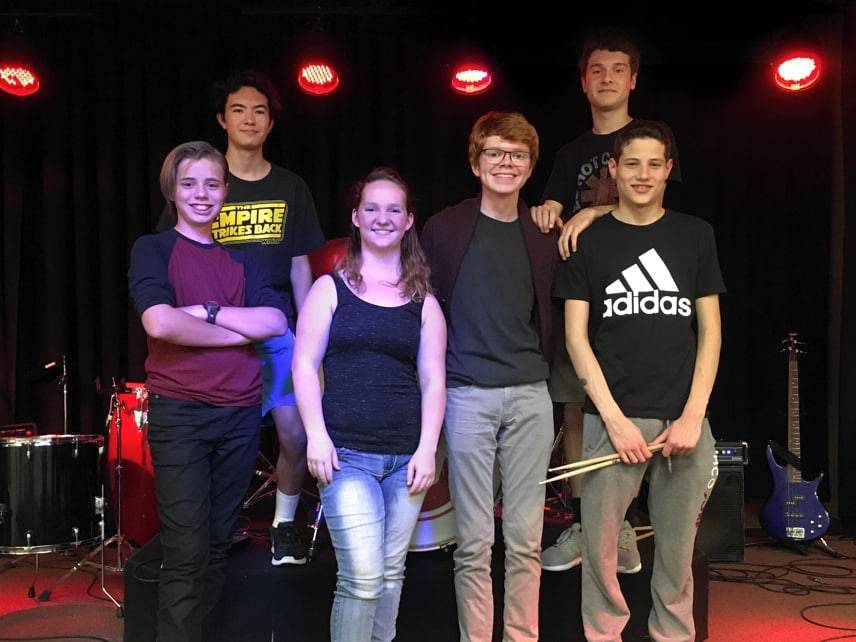 As the big Music House Fall Carnival approaches. We'll be featuring each of the bands competing in the Battle of the Bands. Presenting, Study Session...
---
Why do you call yourselves the "Study Session"?
Ethan: We covered a tune from the Breakfast Club once, so we thought the name would be appropriate.
Ryan: It was better than Richard's Choice: Thundertizzle.
Who are your biggest influences?
Kendra: Amy Winehouse and Gin Wigmore.
Matt: Led Zeppelin and AC/DC.
Bobby: Led Zeppelin, John Williams and Jeff Williams (not related)
Ethan: The Guitar Hero songs got me into playing rock and roll. The Scorpions and Foghat!
Forrest: Forrest Kline, frontman of Hellogoodbye.
Cullen: Led Zeppelin and Green Day.
How would you describe Study Session's style?
Bobby: Rock, dude.
Ethan: Classic Rock, slash alternative.
Matt: We have a retro classic rock feel.
What has working with a real band taught you?
Matt: It's taught me how to translate ideas to other people. It's all about communication -- conveying ideas, seeing how other people think, and what works best for them.
Bobby: How to write a song.
Kendra: Playing in a band has taught me how to listen to the other parts better.
Cullen: I've learned how each instrument plays into the arrangement of a band.
Ryan: It has helped me learn how to be a better teacher and a multi-instrumentalist.
Do you guys write your own music? If yes, do you prefer writing your own stuff or covering others?
Ryan: Yes, we write. I like both and I don't really think you can do one without the other. Playing other people's music teaches you and inspires you. Then, when you write, you take everything you like and mash it all together.
Matt: Yeah. When you think about it, everything has been done before. So when I write, I'm looking to combine things in ways I haven't heard before.
Matt: I always end up learning new techniques from other people's songs, which I can then use when its time to be creative.
Bobby: I like writing stuff the best. Learning other people's songs gets boring sometimes.
Cullen: Covering songs is really important at first, but dedicating your workflow to creating music is more rewarding.
What do you think the difference is between a good band and a great one?
Kendra: The knowledge of how music works and how to really convey your ideas.
Cullen: Dedication.
Ethan: And raw talent.
Matt: I think it's a mix of immense raw talent, music composition/songwriting, and the synergy of the band.
Ryan: You've got to have great songs. That's even more important than having the best individual players.
You guys are performing at the upcoming Music House Fall Carnival on Oct. 29. You stand to win recording time and a performance slot at an upcoming music festival. What excites you most about that show?
Ethan: Getting to show off what we have learned and how we've progressed.
Kendra: Showing people the range of my voice.
Cullen: The opportunity to showcase my skills and progress.
Matt: We've all put so much time into this and we want to show that off.
Bobby: If we win, we'll be able to record our music!
What's going to set you apart from all the other bands competing on the 29th?
Kendra: We have a female singer that can sing low.
Matt: Yeah. Not only do we have Kendra, the best singer, but we have some great original songs.
Cullen: Our band is more unified and dynamic than some of the others.
Ryan: Our style is unique -- thanks to our unique combination of different types of talent.
Ethan: Creativity... yeah.
---
Be sure to join us at this year's Music House Fall Carnival to hear this band and seven others serve up their best. It's going to be a big party featuring lots of amazing people!
Want to learn more about the upcoming Fall Carnival? Click here.
---

Co-founder & Executive Director at Music House