Neon Black: Always Growing, Always Changing, Always Good
 by Aaron Sizemore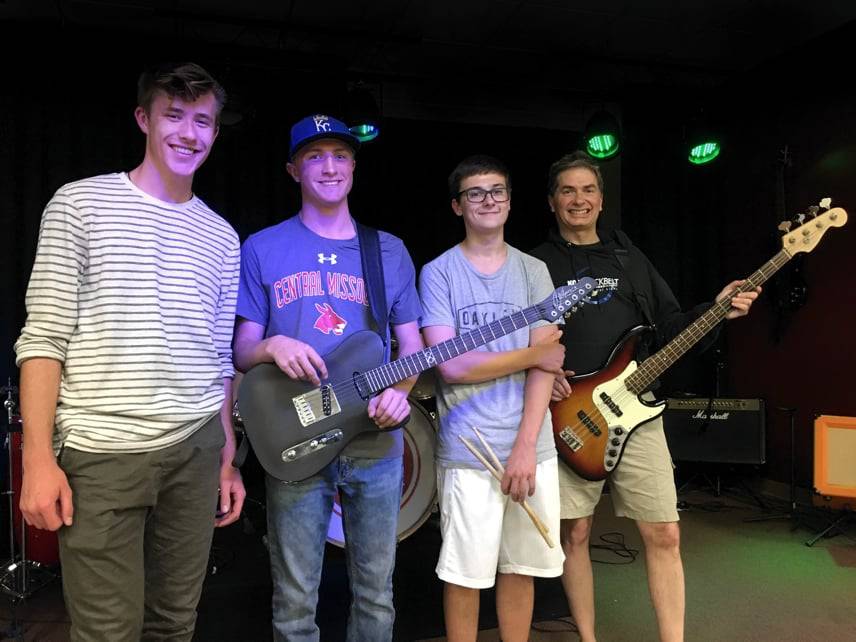 With the big Music House Fall Carnival around the corner (this Sunday), we have one more of the performing bands to feature. Presenting, one of the winners of last year's "Battle of the Bands," Neon Black...
---
How did you guys come up with the name -- "Neon Black"?
Alex: A few years ago, maybe 5, I was looking at the black lights on the stage and thought they looked "Neon Black." I thought, hey, that would be a pretty cool band name. It just kind of stuck.
Who are your biggest influences?
Cade: My playing draws from a lot of blues players, from BB King to Stevie Ray Vaughn but I find that other styles of music make their way into my music. For example, a riff from a heavy metal song or a chord progression from a jazz song could make its way into one of my songs just as easily. It could depend on what I've been listening to or where the song may be headed.
Alex: Vocally, Michael Buble because I really like his vocal inflections and the way he sings the melodies he comes up with. They are all kind of different and melodic and I really like how natural they feel. On piano I have so many people that I listen to that It's hard to narrow down. I take bits and pieces from each artist and apply them to different musical scenarios. For example, when I'm trying to think of chord voicings I take a lot of ideas from Bill Evans and other Jazz artists. However, when I need comping ideas, I'll take things from other guitarists or rhythm instruments that I hear; whatever I feel fits the song. For sax, most of my playing comes from various jazz artists that I listen to.
How would you describe Neon Black's style?
Alex: We float in between genres, but if we had to put a label on it...I would call it "good."
What has working with a real band taught you?
Cade: We've become a lot more open to listening to the ideas of the other people in the band and are no longer afraid to try something because we don't like it. We've found that in the end it usually comes together and just becomes "our" sound.
Do you guys write your own music? If yes, do you prefer writing your own stuff or covering others?
Alex: We 100% love writing our own songs the best. Because it allows us a lot more creativity and it gives us our own identity instead of being just another cover band. Also, we are a lot more emotionally engaged in the songs we write and it comes out in our playing.
What do you think the difference is between a good band and a great one?
Cade: A good band is able to write good music and perform it well, but a great band is able to take that as a base and evolve it so that they are always growing and changing.
You guys are performing at the upcoming Music House Fall Carnival on Oct. 29. You stand to win recording time and a performance slot at an upcoming music festival. What excites you most about that show?
Alex: Being able to play to such a large audience and to have the opportunity to get more studio time to be able to record and finish our album.
What's going to set you apart from all the other bands competing on the 29th?
Alex: Diverse musical talents in the band and a wide musical variety in the songs we write and play.
Anything else you'd like to add?
Alex: Go check us out on SoundCloud - @neonblack. There's a lot more to come!
---
Be sure to join us at this year's Music House Fall Carnival to hear this band and seven others serve up their best. It's going to be a big party featuring lots of amazing people!
Want to learn more about the upcoming Fall Carnival? Click here.
---

Co-founder & Executive Director at Music House