The Music House Jazz Ensemble: Keepin' the Music Alive
 by Aaron Sizemore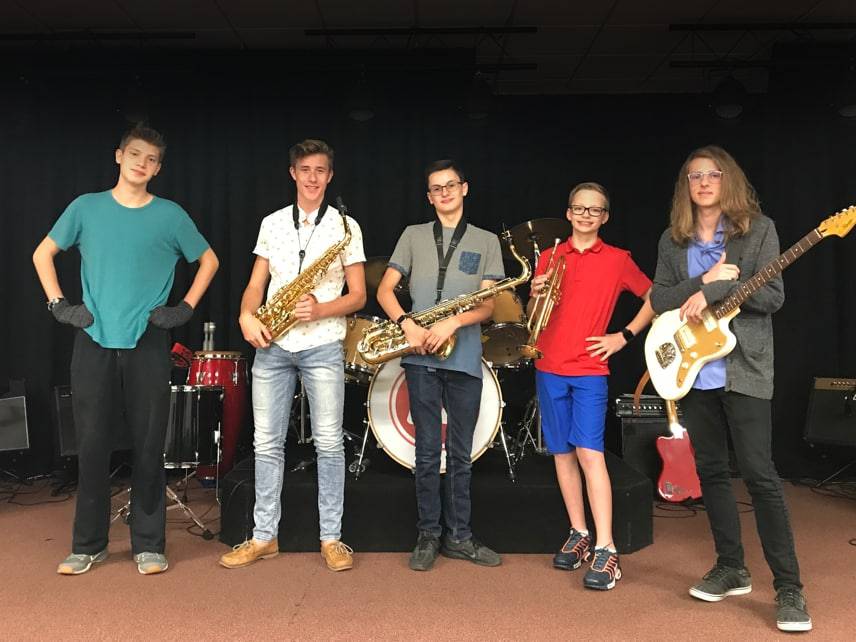 As the big Music House Fall Carnival approaches. We'll be featuring each of the bands competing in the Battle of the Bands. Presenting, The Music House Jazz Ensemble...
---
Who are your biggest influences?
Nathan: My teacher, Andrew Ouellette, is a big influence on me.
Zach: Radiohead is my favorite band. I grew up with them.
Alex: Dexter Gordon and Lester Young. I like their sound. I like their tones. I like their licks. And I love playing the Dexter Gordon tune, Cheesecake.
Jack: John Coltrane, cause he sounds great.
How would you describe the band's style?
Alex: We swing pretty well. We have been getting into a lot of hardbop recently.
Zach: We are playing a lot of Miles Davis tunes from his album, Kind of Blue, lately. I'd say that defines our style pretty well.
What has working with a real band taught you?
Nathan: That listening is important. When I'm comping (playing chords behind a soloist), I try to mirror what other people are playing. The band also forces me to play in real time rather than starting and stopping on my own.
Will: It's taught me to be more confident around other people. I used to play really quiet and was afraid to stand out, but playing with this band has helped me develop a bit of a backbone.
Jack: There's a teamwork aspect to it that I enjoy.
Zach: You have to carry your own weight, which has been good for me.
What do you think the difference is between a good band and a great one?
Will: People who know how to play. That's it. People who know how to play with pizazz and style.
Nathan: Technical understanding of your instrument and theory is crucial. If you don't know what you're doing and aren't consciously making decisions, then you aren't really "in" the music. Other than that, great bands have players who keep their ears open. It helps to know where everyone else is and how to fit in and contribute.
You guys are performing at the upcoming Music House Fall Carnival on Oct. 29. You stand to win recording time and a performance slot at an upcoming music festival. What excites you most about that show?
Alex: I think it's a good opportunity to showcase ourselves for an audience larger than what we normally have.
Zach: I think it'll be fun to see some of the other bands and where we stand with them.
What's going to set you apart from all the other bands competing on the 29th?
Jack: We play jazz. They don't.
Will: And we have Alex Jashinski.
Nathan: We actually play the changes (scales that correspond directly to the chords) — not just a single pentatonic (5-note) scale.
Anything you'd like to add?
Will: We exist. We wanna be famous.
Alex: We're still playin' jazz. It's a fading genre but we are trying to keep it alive here.
---
Be sure to join us at this year's Music House Fall Carnival to hear this band and seven others serve up their best. It's going to be a big party featuring lots of amazing people!
Want to learn more about the upcoming Fall Carnival? Click here.
---

Co-founder & Executive Director at Music House