Ladies & Gentlemen, The Estros
 by Aaron Sizemore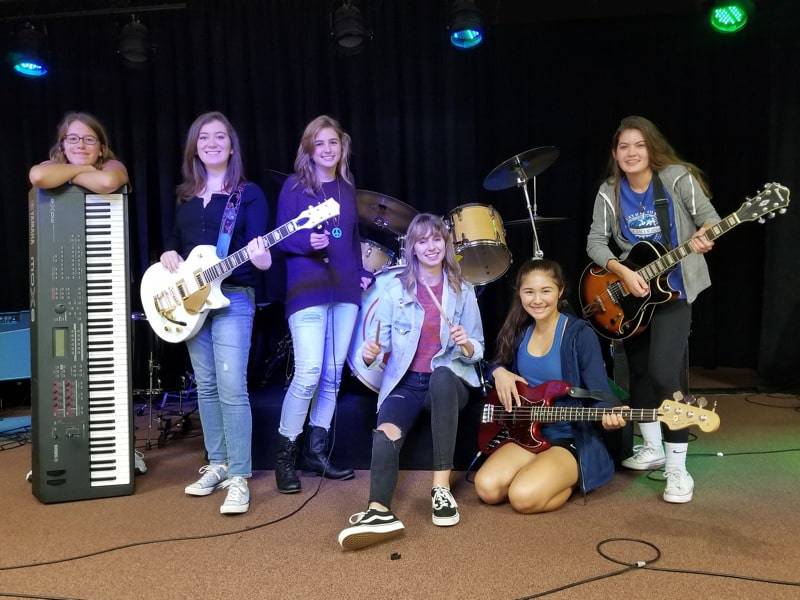 As the big Music House Fall Carnival approaches. We'll be featuring each of the bands competing in the Battle of the Bands. Ladies and gentlemen, The Estros...
---
So you call yourselves "The Estros." How did you land on that name?
Catherine: We wanted our band name to allude to being all girls because we are the first all-girl band at Music House. We came up with a few possibilities, but "The Estros" beat 'em out because it's funny and clever.
Who are your biggest influences?
Leah: Brendon Urie of "Panic! at the Disco" and David Bowie.
Maddy: Bach.
Leah: Ringo Starr and the Beatles.
How would you describe The Estros' style?
Emersen: We haven't been together super long, but a good umbrella term would be alternative. We are a giggly gaggle of girls and like to have fun with whatever tunes we play.
What has working with a real band taught you?
Reese: It's a lot of fun to get to know other people. And you learn the importance of practicing together.
Anna: Being in a band gives you a voice that you wouldn't find by yourself or with a private teacher.
Maddy: Playing in a band is crucial because you learn to bounce ideas off each other. That leads to coming up with new collaborations
Do you guys write your own music?
Catherine: We're just starting to. I'm so excited to work on this band's original music because I feel like we have a lot of new ideas.
What do you think the difference is between a good band and a great one?
Leah: Stage presence.
Reese: Communication. Some bands don't really seem to talk to each other, but that's definitely not the case with this group!
You guys are performing at the upcoming Music House Fall Carnival on Oct. 29. You stand to win recording time and a performance slot at an upcoming music festival. What excites you most about that show?
Emersen: Seeing other bands perform.
Maddy: The opportunity to record if we win.
Anna: We can show off our skills, but also learn from others.
Catherine: I feel like we learn better when there is a sense of competition and urgency.
What's going to set you apart from all the other bands competing on the 29th?
Catherine: We're an all girl band! And we are super close
Emersen: And we can tell each other anything.
Anna: From the first band practice it felt like we were all friends and we had already known each other.
Maddy: We are all such unique people and can each bring something interesting to the table.
Anything more you'd like to add?
Leah: We're The Estros and we're havin' fun!
Emersen: Without Music House, I would have never met all of these amazing people.
---
Be sure to join us at this year's Music House Fall Carnival to hear this band and seven others serve up their best. It's going to be a big party featuring lots of amazing people!
Want to learn more about the upcoming Fall Carnival? Click here.
---

Co-founder & Executive Director at Music House