Get In Tune with Our Woodwind and Brass Teachers
 by Terri Paglusch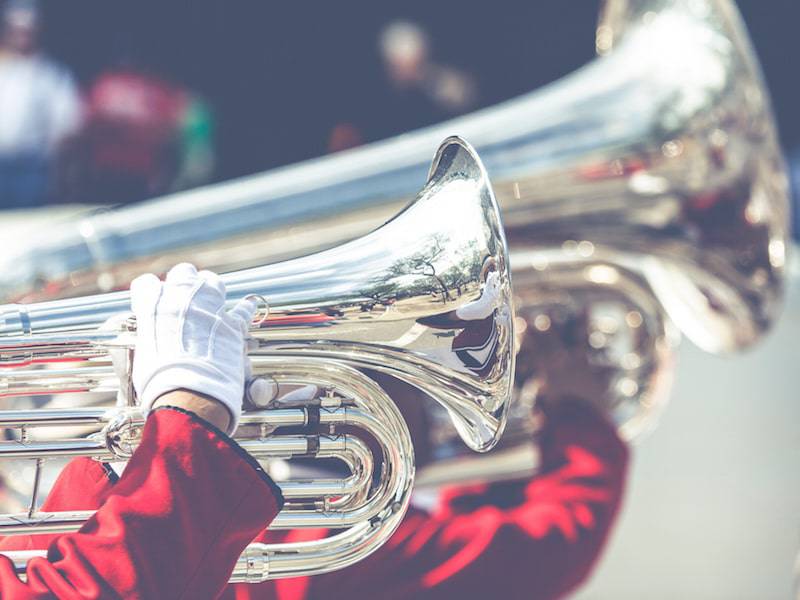 For some students, learning to play a musical instrument starts with joining band in elementary school. It's a great place to try out an instrument, and start to learn to play. For those that want to dig in and get some more in-depth training, or make sure they are learning good playing habits, finding a good private lesson teacher is a must. But what should you look for?
You definitely want someone who has experience playing the instrument, but also knows how to teach, and has experience clearly explaining the nuances of the instrument. Taking lessons from professional musician who currently plays the instrument is one way to make sure they'll "show you the ropes" and keep you moving forward in your goal of playing better. If you can find a teacher that loves to share the knowledge they've gained over years of study, practice, and performing professionally with their students, then you've found "the one." At Music House, we're honored to have these exceptional musicians teaching our woodwinds and brass students. Read on to find out why. 

Kim Foskett: Oboe private lessons
Ryan Thielman: Trumpet and trombone private lessons
Russell Thorpe: Saxophone, clarinet and flute private lessons
---

What is your favorite thing to teach students? What makes you happy to see your students learn?
Ryan: One of my favorite things to teach each student that I work with is that most, if not all, of the skills we develop through the focused and methodical approach of studying music are ultimately applicable to multiple aspects of our lives. It gives me tremendous joy seeing a student learn that when they're given the right tools and are taught how to be self analytical, they can begin to figure out how to correct their mistakes without seeking guidance. Teaching someone to be their own teacher is a fundamental principle of excellent music education. 
Russell:  I like to teach students the process of how to practice effectively. This means they have to learn how to develop their own sense of patience. It makes me very happy to see a student have a week where they have used my suggested techniques for practicing and they see improvement. When they come in to a lesson and I can see that the lightbulb is burning brightly over their head it gives me such a good feeling. 
Kim: I enjoy teaching students whatever they are most excited about learning. Some want focus on learning duets, some want to work towards nailing an audition. I'm happy to see them enjoying the process of getting closer to achieving any of their goals!
Teaching someone to be their own teacher is a fundamental principle of excellent music education. 
What do you do or have you done with your music education and experience?
Russell: I'm in an ensemble called the Mnemosyne Quartet. We are a group of composers and performers who make music that takes the location it is performed into account as we design it. We also use many ways to involve the listeners in the performance, often with streaming tracks they play over their phones that serve as accompaniment for us to improvise with live. Take a listen.
Kim: One of my favorite experiences with the oboe was performing as part of local composer, Kalo Hoyle's ballet, To Some Transparent End. The link doesn't include video, which is a shame. The choreography was impeccable. It was great playing in a small quintet, for the actual composer, because we got real-time feedback and help with any questions we had. It's not often that classical musicians have that privilege.
Ryan: I've recorded multiple records with the artists signed to Strange Music including Tech N9ne. I also enjoy maintaining an active and diverse performing schedule. Here's a little bit of me playing a solo. 
If you could give each student one piece of advice what would it be?
Kim: Know when to be hard on yourself, and when to give yourself a break. Getting better takes the discipline to practice every day and focus to recognize areas to improve. That said, you have to approach that with a healthy mindset. If something is frustrating you, take a break and come back to it with a clear head. I'm a firm believer that playing (and even practicing) should be enjoyable. If you hate what you're doing, something is wrong. 
Ryan: Figure out the process in which you learn best, i.e. acquiring and internalizing information, so that you can make the most of your practice, without having to waste time, which keeps practice fun! And (ok there's two here) always share the knowledge you've gained through the study of music with others. In doing so we help to continually expand our communal pool of knowledge!
Russell: Don't worry about failure, especially if you are a beginner. If we are practicing right then we should fail more times than we succeed at first. As long as we learn from each time we stumble, we'll eventually get to a point where success is more common than failure.
If we are practicing right then we should fail more times than we succeed at first. As long as we learn from each time we stumble, we'll eventually get to a point where success is more common than failure.
What is the best way for students to become better musicians?
Ryan: Obviously individual practice is crucial, but playing with other musicians, especially ones that are at a higher level, is the best way to become better!
Russell: Practice. Learn how to play with other people. Do a lot of listening, both to recordings and to live musicians. The first reason almost everybody has for becoming a musician is because it is fun or exciting. The more you can learn how to make the idea of practice synonymous with 'fun' the better time you'll have and the quicker you'll advance your skill level.
Kim: Be consistent with your practice, especially regarding fundamentals. In addition to that, play music with other people! Performing with chamber groups, orchestras, and bands in many different genres is so great at exposing you to awesome people and music.
When learning to play a musical instrument, finding the right teacher is such an important part of the process. A great musician with the right teaching skills and experience will enable you to find your path to success. Click the button below to get in touch with us! 
---

Terri comes to Music House with extensive experience in business management. At Music House she spends her time working to make the client experience the best it can be.