Love to Sing? A Good Vocal Program Can Help You Become A Better Performer
 by Terri Paglusch

Do you love to sing? Many people who love to sing want to be able to join in activities that involve singing, such as school musicals, choir, vocal ensembles, or even rock bands. But loving to sing doesn't always give you everything you need to succeed at these activities. Sometimes you need a little help to get you there.
So how can you go from loving to sing, to becoming a successful performer that allows you to join in the fun musical activities available? Vocal classes or lessons can make the difference. A good vocal program at a music school can help you get the skills and confidence necessary to become a good performer.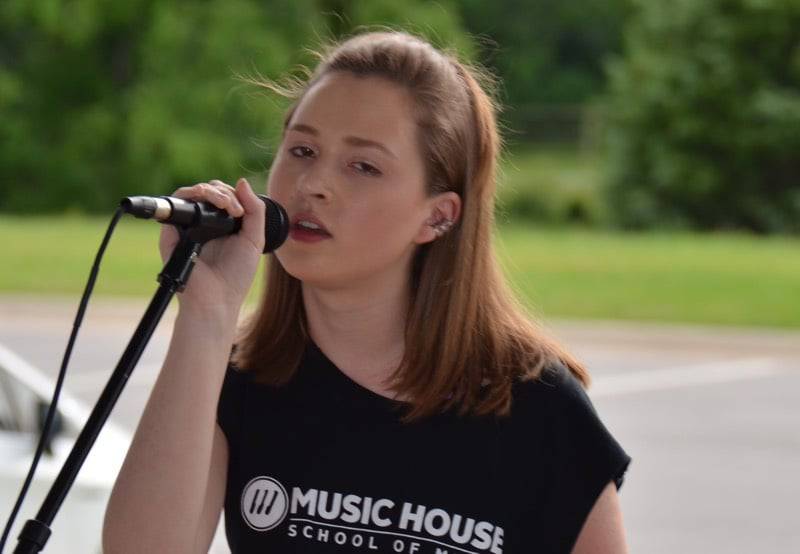 A good vocal program will:
Teach you proper technique.

Help you gain confidence in your voice.

Show you how to practice properly.

Give you experience performing.

Provide a peer group of other music students to relate to.
Jen Weiman, a vocal teacher at Music House School, says she has loved to sing since she was a child, humming around the house, and singing along with the car radio and TV commercial jingles. But she started taking voice lessons at 13 because she knew it would help her be able to do what she loves to do: sing. Jen sums up her experience this way:
"Private voice lessons have helped me become a better singer in a countless number of ways. I have gained confidence and learned that my entire body is my instrument, and how to use it properly. Voice lessons have taught me to work hard and at the same time not judge myself too harshly. I learned to trust my imagination and always have a point of view that is unique. My private voice study will never be done, because there is always something new to learn."
The result of all those lessons for Jen has been to become a performer with a broad range of accomplishments, which have included everything from singing in choirs throughout middle school, high school and college, to performing in community theatre every year from 8th grade until she went to college. In college, as an opera major, she sang in many choirs and got lead roles in the opera productions! She currently sings professionally as a solist, and is a member of a Grammy winning ensemble. Jen shows her passion for singing when she says,
"Singing is not only what I do, it is who I am. I am forever grateful to all my voice teachers and choir directors that have lead me to where I currently am today."
Some current voice students are hoping to follow in Jen's footsteps. They started out loving to sing as a child and decided to take  lessons to help improve their voices, and allow them the opportunity to perform.
One student, Sophia Ragomo, has always loved singing, and sang along with "Hannah Montana" and "High School Musical" when she was in elementary school. She started taking voice lessons so she could learn to be the singer of a band.
"Voice lessons have helped me so much as a singer," says Sophia. "Technically, my placement and vowels have improved greatly since I first started. Voice lessons have helped me to be more confident in my singing and performing. Because of voice training, I now feel much more confident in my abilities as a performer."
Sophia has enjoyed the many performing opportunities she has had at Music House, performing with the All-Star Band, and as a solo performer at student showcases. She has also gotten to perform in her school musical and other fun events due to the training she has received.
Ella Wille sings in the Vocal Ensemble at Music House. She has been singing since she was three, and loves performing for people. She says, "the Disney Princesses had a bit to do with it."
Ella started taking voice lessons because she needed a good teacher and program "that encouraged my love for singing and performing. I wanted to get better with breathing, tone, key, pitch, and stamina. And be around someone who encouraged my love for performing!"
Taking voice lessons has helped Ella pursue the activities she enjoys, such as singing in her school Concert and Chamber choirs. She even got the lead role in her 8th grade musical. When asked how singing has enriched her life, she says, "It gives me a way to express emotions, and I love to perform and sing.
Voice lessons and classes can be the pathway to get you from loving to sing to becoming a successful performer. It takes lots of practice, but when you are doing something you love to do, it is all worth it. Just make sure that you find a good vocal program that will give you the tools you need, and you will be on your way!
Do you love to sing and want to be able to join in all the fun activities? Find out more about our vocal program at Music House, which includes private lessons, classes, performance opportunities, and more!
Just call us at 913-562-4112. Check us out online at MusicHouseSchool.com 
---

Terri comes to Music House with extensive experience in business management. At Music House she spends her time working to make the client experience the best it can be.