3/29/20
Attention Lesson & Workshop students! Live video streaming is here.
It's coming for Group Class students next week.
We've spent the past week perfecting a process that will make it easy for both students and teachers to connect. Group Class live streaming is coming soon. Here's what you'll need to do:
---
1. Download Zoom here.
Please do this asap. It will be one less thing to worry about next week when it's time for your lesson or workshop. We recommend using the desktop version whenever possible because of the bigger screen and additional features. However, you can also find iOS & Android versions on this page.
---
2. Log into your Music House Account a few minutes before your scheduled lesson or workshop.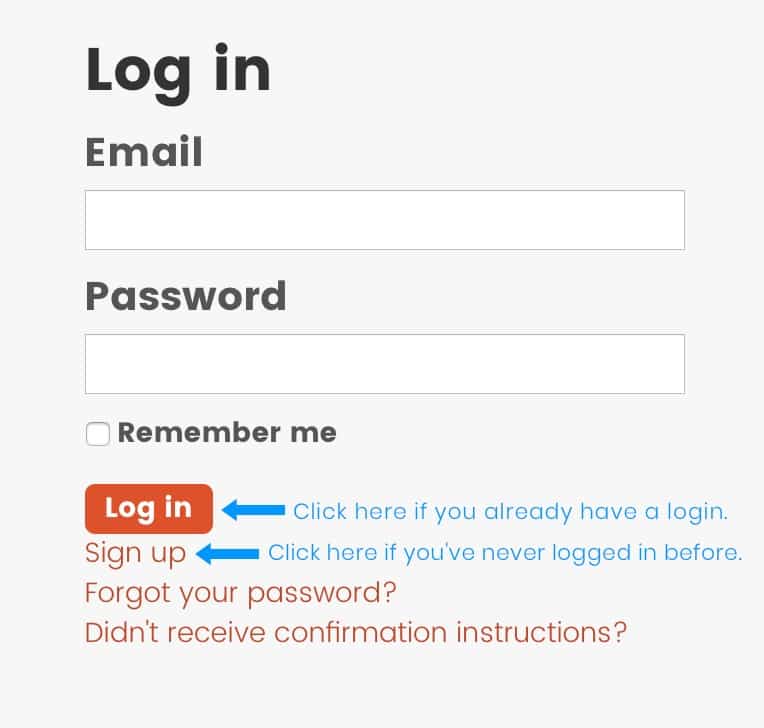 If you've never logged into your Music House account, you should create an account right away. Make sure you use the email address you gave us when you enrolled.
---
3. Click a button & say hello to your teacher.

Don't see the button? That just means your teacher hasn't started the session yet. If it's time for your scheduled program to begin, refresh the page every 30 seconds or so and it will appear shortly. Once you click the button, zoom will launch, you'll follow the instructions, and there will be your teacher's smiling face.
---
4. Have a great lesson!
---
3/23/20
The show must go on.
The band workshop program has always been the most vital and coveted program at Music House. Our bands have become their own micro-communities, where students join forces in one goal of making awesome music together. We want this to continue. We want these students to keep learning and collaborating during this time when their lives have already been disrupted in so many ways. We're committed to it. Here's what we plan to do:
First, we're going to dive into some topics that our band workshop teaching faculty have been dying to teach their students. They've already started crafting instructional videos for this purpose. We spent last week brainstorming and training and have gotten pretty excited about it. There's so much to being a functional performer that often isn't covered during a rehearsal, when the focus is on simply playing the music. For example:
Operating a soundboard (you can't communicate with a sound engineer if you have no understanding of what he or she does)
Booking a gig (a vital and complicated part of being a musician, of course)
The ins and outs of stage equipment (all performing musicians should have a rudimentary understanding of the equipment on stage, whether it involves their instrument or not)
Equipment maintenance (you can always spot a musician by the way they wrap a cable or handle a microphone)
The art of recording (this topic can be broken into many sub-topics)
The list could go on and on. And although we could come up with weeks and weeks of supplementary material, this is only the first step of what we plan to roll out. We're currently testing platforms for online live streaming collaboration, recording, and a few other exciting things.
Here's the plan for next week:
Your workshop teacher will be uploading a video specifically for your band that you will be able to view through your Music House account. It will be available on the day of your scheduled program and you'll receive a text when it's ready. Make sure you've signed up to receive texts from your teacher (instructions in the post below this).
If you haven't done so yet, please join the Music House community forum. Each band has its own chat room, so they can communicate with each other as well as their teachers. We'd like to get the students involved in the discussion about some of the features we're preparing to roll out.
As we said, this is just the first part of the plan, so please stay tuned.
Safe informed, calm, and healthy. We'll do our best to do the same.
- Andy, Rachel, Audrey & Becca
3/19/20
We've been planning, building, and training all week and we're ready to launch phase 1 of our online plan.
Now on to the details. Here's what you'll need to do:
(If you already have an account, go to step 2.)
Go to musichouseschool.com/me and click "Sign up" link under the log in button. Then enter the email address you gave us when you enrolled, create a secure password, and click the sign up button. You'll be emailed a confirmation link that you'll need to click in order to activate your account.
---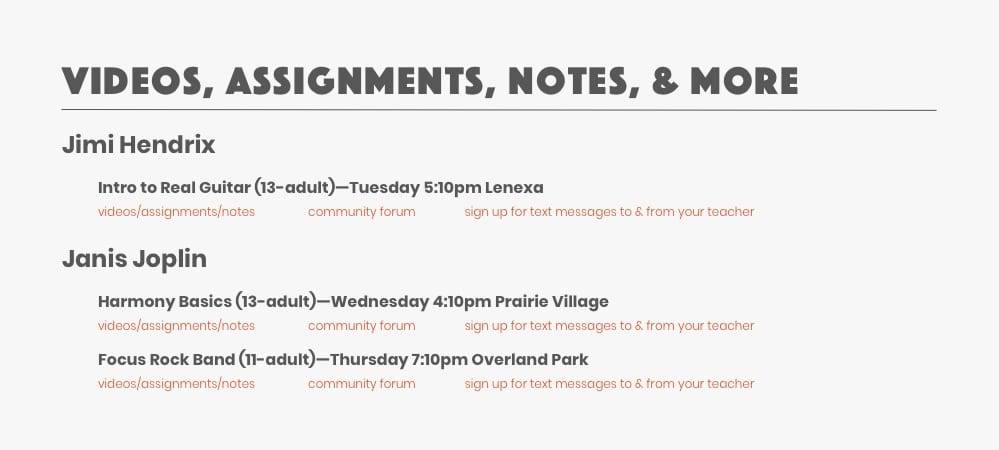 Under the "Videos, Assignments, Notes, & More" section, you'll see all your household's students and the programs in which they're enrolled.
---
3. Click on "sign up for text messages to & from your teacher"

This will take you to a messaging signup page. Enter the STUDENT's name & phone number.
PARENTS: if you'd like to receive all messages too, enter YOUR email address. This is not mandatory, but we recommend it. All messages will be centrally monitored by admin staff. We ask that you use the student's phone number, unless, of course, they don't have one. In that case, use your own.

Actual phone numbers will not be visible to students or teaching faculty

.
---
4. Click on the "community forum" link and register the student.

This will allow students and teachers to conduct conversations, ask general questions, and share cool stuff.
PARENTS: If your student is 12 or younger, register yourself, not your student. And please encourage your student to post under your supervision. Thirteen-year-olds and up should register themselves. Parents are welcome to register as well.

These forums will be closely administered by our staff

.
---
A few notes about the "videos/notes/assignments" link:
If you don't see this link yet, you will as soon as we've posted content next week.
If you do see the link, clicking it will take you to past notes, which you're free to peruse.
Personalized videos, lesson notes, and assignments will be posted on the day of your normally scheduled program. Your teacher will send you a text message as soon as it's ready. If you're in multiple programs, this will happen for each of them. And please ask questions and give feedback by simply replying to the text message. Let's keep the conversation going!
---
Remember — we plan to continually add features throughout this entire coronavirus disruption. We're entirely aware of how valuable music and connection will be to our students and families as the weeks unfold. Thanks for having faith in us. We won't let you down.
- Andy, Rachel, Audrey, Kinsey, and the rest of the MH gang
3/18/20
We're playing the long game.
If we've learned anything from the past couple weeks, it's that we all need to be prepared for the unexpected. If life returns to normal relatively soon, then wonderful, but we're choosing to play the long game here. Therefore, we've decided to go fully online beginning next week until the current crisis passes. The solutions we have planned for Monday — the personalized video content, monitored direct messaging, and virtual community forums — are only the beginning. Over the course of the next few weeks, you can expect a steady stream of cool stuff to roll out, including, but not limited to:
Live streaming instruction.
A catalog of online Community Classes, covering a wide variety of useful musical topics, that students can view whenever they want.
Live-streamed concerts to entertain, enrich, and connect the community during this time of disconnection.
Our 11 administrators and 26 teachers are entirely focused on building a robust, virtual music school. We'll be working around the clock to keep Music House alive and our students fulfilled (at a time when they can use all the joy and connection they can get). And when this is all over, we'll have all kinds of new tricks and toys to enhance the in-person Music House community experience you know and love.
Instructions for Monday's features will come to you tomorrow, so stay tuned.
- Andy, Rachel, Audrey, Kinsey, and the rest of the MH gang
3/17/20
Music is for times like this.
We've always approached Music House as a resource, both for our teachers and admins who have built their lives around it, and for our students who gain confidence, empathy, and a deepened sense of identity from their experiences here.
It's essential, for so many reasons, that we maintain this resource and we plan to do just that. We've been working around the clock on this and we have a plan.
---
The plan (phase 1)
Beginning Monday, students and parents who don't feel comfortable coming into Music House can log into their Music House accounts for access to the following:
Weekly videos recorded by their teachers specifically for them with accompanying lesson notes and assignments.
Links that allow students to join monitored texting groups with their teachers. This will be an excellent way for teachers to maintain steady communication throughout the week (monitored by admin staff). They'll be periodically texting pointers and other content and students will be able to ask questions -- right from their phones.
Community message boards categorized by program type (Band Workshops, Guitar, Piano, etc.) and monitored by our teaching faculty. This will allow students and parents to communicate with the community at large. Share videos, links, ask questions, answer them, etc.
This is only the beginning. If we can accomplish this in the space of one week, just imagine what else we can do. Stay tuned for phase 2.
For those of you who still want the in-person experience, we currently plan to run our usual programs. We'll continue to follow our new cleaning protocols and will do our best to minimize close contact. And, of course, we'll let you know if anything changes.
We'll be sending more specific instructions later this week that guide you through how you can easily take advantage of these first steps. In the meantime, practice self-care and rest assured that the music will go on.
- Andy, Rachel, Audrey, Kinsey, and the rest of the MH gang
3/16/20
Music is made for times like these. It comforts and connects us when we feel isolated and afraid. That's why we need to do all we can to keep the Music House community connected throughout these disorienting times.
We're currently working on a platform to allow our students to stay connected with their teachers, peers, mentors, and mentees, regardless of whether or not they can be physically present at the school. We expect to have something ready by the end of this week, so stay tuned.
3/12/20
At Music House, our primary mission has always been to build a strong community. Music is the main thread that connects us within this community, but it's far from the only thread. Right now, we all share a concern about the Coronavirus situation, officially titled COVID-19. And although the risk of transmission in Johnson County is still considered to be extremely low, we need to do our best to stay rational, informed, and proactive. That's what strong communities do.
Here are a few precautionary steps we're taking:
• Sanitizing all surfaces, equipment, and instruments used by students after every lesson, class, and band rehearsal.
• Sanitizing all doorknobs, workstations, and countertops daily.
• Placing hand sanitizer at each front desk, lobby, breakroom and front entrance.
• Making sure that bathroom soap dispensers stay full.
• Hiring a cleaning crew to do a deep clean of Music House during Spring Break (we do this every year).
• Requiring all sick staff and faculty to stay home.
Here's what we request of you:
• Stay home if you are sick.
• Wash your hands frequently, with soap and water, especially after using the restroom, before eating, and after blowing your nose, coughing, or sneezing.
• Avoid touching your eyes, nose, or mouth with unwashed hands.
Another thing you can do is stay informed. We're following guidance from the CDC and state and local departments of health and we suggest you do the same. The Centers for Disease Control and Prevention (CDC) regularly updates its website and is an excellent source of information.

Take care of yourselves and have a healthy and safe Spring Break.

Aaron Sizemore
Co-founder, Executive Director